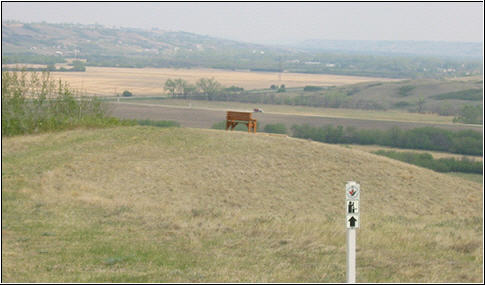 Looking north east toward the town of Lumsden in the Qu'Appelle Valley
Since 1999, the Great Plains Trans Canada Trail Association has been working hard to register and develop trail in and around Regina, Saskatchewan, as part of the national trail system.
With about 13 kilometres of designated trail, there are spectacular stretches of trail for hikers, cyclists, horseback-riding and cross-country skiing.
One of our active projects involves the building of two bridges across Wascana Creek, west of Regina. The Wascana Creek Valley trail is very scenic with many opportunities for bird watching in the spring.
The Board of Directors meets monthly, except July and August, and consists of the following members:
2002/03:
President: Curt Schroeder
Past-President: Greg Swanson
Vice-President: Del Affleck
Secretary-Treasurer: Syd Lothian
Grant Gibson, Velda Back, Dick Rennie, Gary Howland
Contact Number: 306-949-0443
---